The Miami County Republic March 14, 2012
http://www.republic-online.com/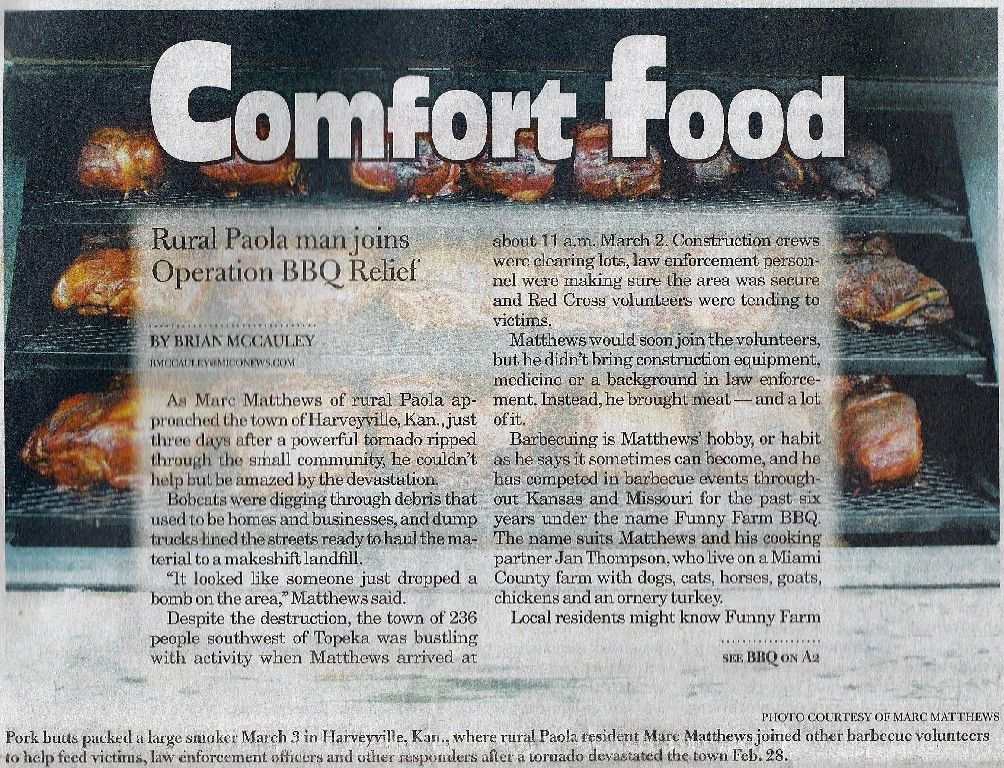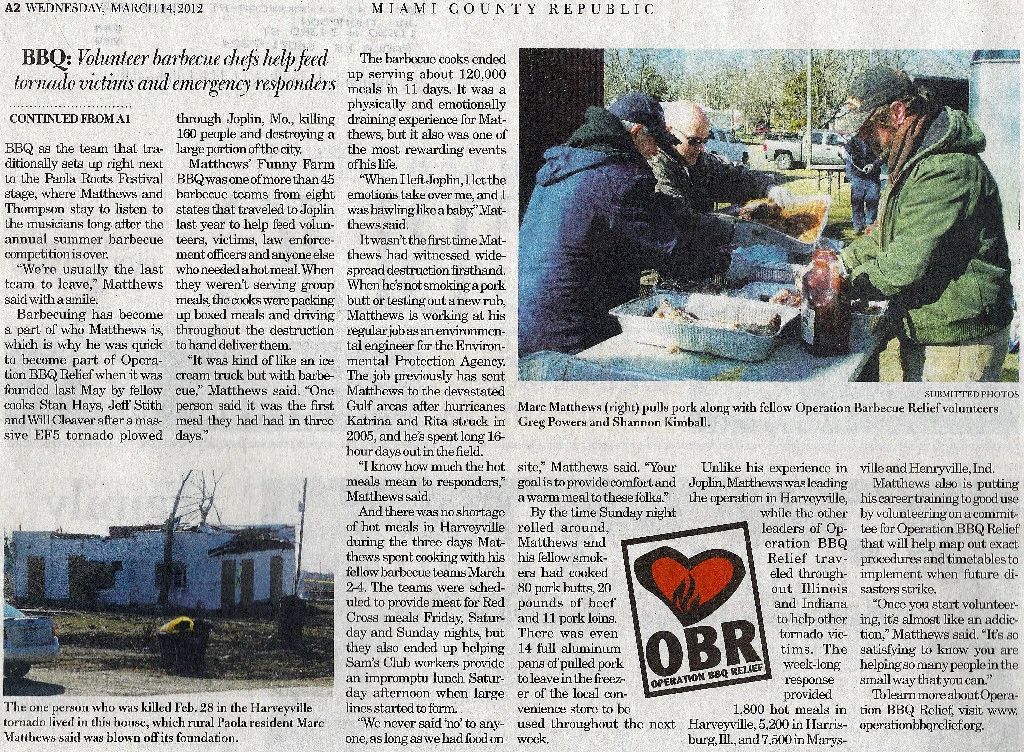 As Marc Matthews of rural Paola approached the town of Harveyville, Kan., just three days after a powerful tornado ripped through the small community, he couldn't help but be amazed by the devastation.
Bobcats were digging through debris that used to be homes and businesses, and dump trucks lined the streets ready to haul the material to a makeshift landfill.
"It looked like someone just dropped a bomb on the area," Matthews said.
Despite the destruction, the town of 236 people southwest of Topeka was bustling with activity when Matthews arrived at about 11 a.m. March 2. Construction crews were clearing lots, law enforcement personnel were making sure the area was secure and Red Cross volunteers were tending to victims.
Matthews would soon join the volunteers, but he didn't bring construction equipment, medicine or a background in law enforcement. Instead, he brought meat — and a lot of it.
Barbecuing is Matthews' hobby, or habit as he says it sometimes can become, and he has competed in barbecue events throughout Kansas and Missouri for the past six years under the name Funny Farm BBQ. The name suits Matthews and his cooking partner Jan Thompson, who live on a Miami County farm with dogs, cats, horses, goats, chickens and an ornery turkey.
Local residents might know Funny Farm BBQ as the team that traditionally sets up right next to the Paola Roots Festival stage, where Matthews and Thompson stay to listen to the musicians long after the annual summer barbecue competition is over.
"We're usually the last team to leave," Matthews said with a smile.
Barbecuing has become a part of who Matthews is, which is why he was quick to become part of Operation BBQ Relief when it was founded last May by fellow cooks Stan Hays, Jeff Stith and Will Cleaver after a massive EF5 tornado plowed through Joplin, Mo., killing 160 people and destroying a large portion of the city.
Matthews' Funny Farm BBQ was one of more than 45 barbecue teams from eight states that traveled to Joplin last year to help feed volunteers, victims, law enforcement officers and anyone else who needed a hot meal. When they weren't serving group meals, the cooks were packing up boxed meals and driving throughout the destruction to hand deliver them.
"It was kind of like an ice cream truck but with barbecue," Matthews said. "One person said it was the first meal they had had in three days."
The barbecue cooks ended up serving about 120,000 meals in 11 days. It was a physically and emotionally draining experience for Matthews, but it also was one of the most rewarding events of his life.
"When I left Joplin, I let the emotions take over me, and I was bawling like a baby," Matthews said.
It wasn't the first time Matthews had witnessed widespread destruction firsthand. When he's not smoking a pork butt or testing out a new rub, Matthews is working at his regular job as an environmental engineer for the Environmental Protection Agency. The job previously has sent Matthews to the devastated Gulf areas after hurricanes Katrina and Rita struck in 2005, and he's spent long 16-hour days out in the field.
"I know how much the hot meals mean to responders," Matthews said.
And there was no shortage of hot meals in Harveyville during the three days Matthews spent cooking with his fellow barbecue teams March 2-4. The teams were scheduled to provide meat for Red Cross meals Friday, Saturday and Sunday nights, but they also ended up helping Sam's Club workers provide an impromptu lunch Saturday afternoon when large lines started to form.
"We never said 'no' to anyone, as long as we had food on site," Matthews said. "Your goal is to provide comfort and a warm meal to these folks."
By the time Sunday night rolled around, Matthews and his fellow smokers had cooked 80 pork butts, 20 pounds of beef and 11 pork loins. There was even 14 full aluminum pans of pulled pork to leave in the freezer of the local convenience store to be used throughout the next week.
Unlike his experience in Joplin, Matthews was leading the operation in Harveyville, while the other leaders of Operation BBQ Relief traveled throughout Illinois and Indiana to help other tornado victims. The week-long response provided 1,800 hot meals in Harveyville, 5,200 in Harrisburg, Ill., and 7,500 in Marysville and Henryville, Ind.
Matthews also is putting his career training to good use by volunteering on a committee for Operation BBQ Relief that will help map out exact procedures and timetables to implement when future disasters strike.
"Once you start volunteering, it's almost like an addiction," Matthews said. "It's so satisfying to know you are helping so many people in the small way that you can."
To learn more about Operation BBQ Relief, visit www.operationbbqrelief.org.
The BBQ GRAIL April 12, 2010
www.thebbqgrail.com
Review by Larry Gaian
Funny Farm Original Competition BBQ Sauce
There must be a huge demand for BBQ sauces. Stop by any grocery store and you'll see shelve upon shelve of commercially produced sauces. If you are fortunate enough to have a large regional grocery store chain, near by, you might find some local sauces, but for the most part you're just going to get those normal, everyday mass produced sauces. There's not anything necessarily wrong with those sauces, but there are so many artisan sauces produced by real BBQ people, that with a little investigation and forethought, you can get some great tasting sauces that will make you truly appreciate what a sauce should do. Compliment the meat it's on.
One of those artisan sauces is Funny Farm BBQ's "Original Competition BBQ Sauce." Based out of Paola, Kansas Marc Matthews, the leader of the Funny Farm Competition BBQ Team, has come up with a great sauce that will compliment any meat.
I gave the Funny Farm sauce two different tries. Once on pork spare ribs rubbed with Simply Marvelous Pecan Rub and a second time with baby back ribs with Simply Marvelous Sweet & Spicy Rub. This allowed me to tell how the sauce would react to different flavor profiles.
In both cases the Funny Farm sauce complimented the rubs and meat. There's a great deal of seasoning in the sauce and often times sauce makers try to make a good tasting sauce for the sake of the sauce. This is a great way to make a sauce if you want a sauce that overpowers everything. But true BBQ fanatics want a sauce that can be used as a compliment to the meat, rub and smoke. You get this with the Funny Farm sauce.
The sauce is sweet when it first hits the tongue which is a nice touch for those that enjoy enjoy sweet sauces. But because many of the popular BBQ rubs have a more spicy flavor profile it often clashes with the sweet sauces. In the case of Funny Farm sauce they've also given you a little spicy kick on the back end. It's not really "hot" spicy, just spicy. This little surprise is what really enhances the seasoning on the meat.
I like to use mild fruit woods when I smoke pork. Since fruit woods are often times more mild you don't want a sauce that will overpower the wood smoke flavor. What's the point of spending six hours smoking ribs if you aren't going to taste the wood smoke flavor. The Funny Farm sauce allows the wood smoke flavor to come through.
It's no wonder the Funny Farm Competition BBQ Team has had the great results they have had on the BBQ competition circuit. I'm hoping they have great success with this sauce because they have a couple other sauces up their sleeves.
You can find Funny Farm on Facebook and order their sauce on their official website.
© 2010, The BBQ Grail. All rights reserved. On republishing this post you must provide link to original post.
The Miami County Republic August 26, 2009
http://www.republic-online.com/
WRITTEN BY BRIAN MCCAULEY
WEDNESDAY, 26 AUGUST 2009 08:00
With revised recipes and a renewed spirit, Marc Matthews and his Funny Farm BBQ partner Jan Thompson have high hopes for this weekend, when they are set to put their smoking talents on display at the East Central Kansas Barbecue Championship during Roots Festival in Paola.
The cooking couple from rural Miami County have already participated in four barbecue competitions this year, and Matthews said he's got a fresh arsenal of barbecue flavors in store for Roots this weekend.

The Funny Farm BBQ team has had some success in the pork category in the past at Roots along with decent showings in sausage, but Matthews is hoping a new approach will lead to better results this year.
Marc Matthews and Jan Thompson are
"I changed almost all of the recipes for Roots," also known as Funny Farm BBQ. They
Matthews said. "I'd love to have at least one top 10 plan to compete this weekend at the East
finish overall, and I'd really love to get the Miami Central Kansas Barbecue Competition
County trophy." during Roots Festival (submitted photo)
Matthews knows, though, how difficult the competition is for the Miami County trophy.

"There are a lot of good barbecue teams in this county," he said. "There's three within a three-mile radius of where I live. It's pretty stiff competition."
Last year, Munchin Hogs @ The Hilton finished first overall, and Smoke on Wheels won Best BBQ in Miami County.

Regardless of how his barbecue does at Roots, Matthews still knows his bread and butter is his sauce, which he bottles and sells.

Funny Farm BBQ recently finished second in the mild baste category of the Great American BBQ competition in Bonner Springs.

Steve McMullin, who organizes the barbecue competition at the Roots Festival, said there will be 66 teams competing this year.

He also said there will be a slight change to the organization of the Kids-Q barbecue competition. There are 20 kids signed up this year, which is a record. McMullin said the event will be split into two categories, ages 5 to 10 and ages 11 to 15.